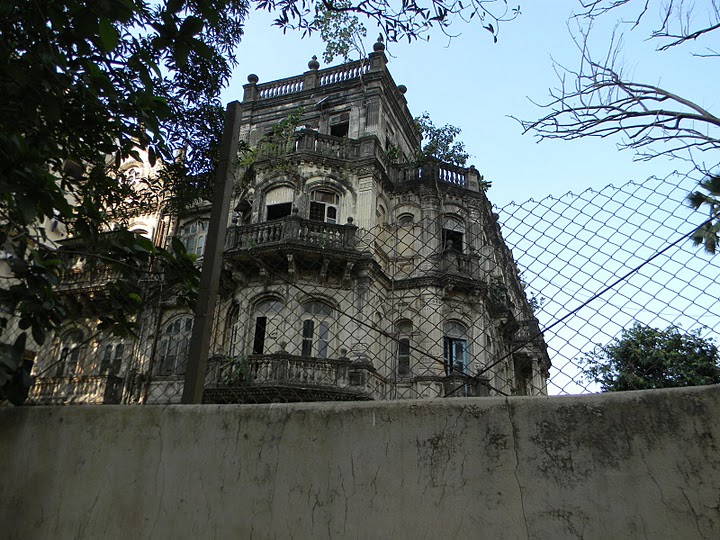 Most of the stories I heard about Bombay when I was a child, were from my mother. She never liked it, she called it the home of thieves and all nefarious activities. I believe we must have gone there at least 2-3 times during connecting flights, and thanks to the fears instilled by her stories, it was like a terror for me. The airport would be all crowded, porters calling out, people bumping around and I would hold on tight to my mother and keep a hawk eye on the luggage and my sisters to make sure nothing went wrong. Then there was a trip in the taxi by night, haunted roads, traffic lights (that amazed me as I never saw them in Hyderabad), people sleeping on the roadside. My childish imagination convinced me they were killed and left to rot there. And the ditches beyond the roads, I used to believe all the thieves and murderers are lurking there. One stay was at a small hotel, almost like an inn, a very hazy memory. A clear memory was the stay at the Centaur Hotel – my sister got loosies, I was trying to open the lock on the luggage bag, looking out from the balcony onto the swimming pool below which had the Air India Centaur logo in it and lots of rabbits scampering about, and finally ordering egg for breakfast at the hotel restaurant.
In my mind, Bombay didn't change neither did my knowledge about it. A few friends were from there, I even did an assignment about Maharashtra but the thoughts never changed. When I got into college, a new India opened up in front of me. Then began my love for all things Indian, and mix to that my interest in history(especially English history), Bombay and Delhi became places where I would love to get lost in. And finally, add to it all the stories of a dear friend who grew up there, Salman Rushdie's Midnight's Children, Bombay became a dream, a desire just out of my reach.
You hear a lot of cliches about Bombay – polluted, traffic jams, fast life, busy people, floods, resilience et al. And for an almost dim-witted person like me, being there sounds like a nightmare. Well, but it wasn't. If it was anything, it was like a dream – where your past beams in front of you and shapes your imagination, the present takes time to sink in because you are actually living it, and future shimmers before your eyes.
The last time I travelled on a plane I was 16, with still no definite idea about what exactly one has to do before boarding a flight. So this time I was determined to learn it all. Pretty simple, considering it was a domestic flight, but the images that flash from your almost forgotten past, it's like actually living what was only heard of. Take your boarding pass, attach the tags to the luggage, go through security, wait out in the lounge, go to the washrooms, walk through the jet bridge, search for your seat, put on the belts, listen to the air hostess's instructions.
It's totally a different thing to see the sun rise while seated on a plane, almost like the colours of the rainbow being played out in front of you. And the sight below, it was simply amazing, I could only goggle like a fool. The Western Ghats, the rivers, ponds, you could just look at it forever. And my mind started playing all that I had learned about the Western Ghats from school – they are a continuous chain, higher than the Eastern Ghats, they are more thickly vegetated and on and on.
Fleecing began right at the airport when we stood to take a prepaid taxi. The passenger in front wanted to go the US Embassy like we did, but unlike us, he didn't know where it was, and the lady at the counter misinformed him it was at Churchgate and charged him Rs. 350. When our turn came and we told her we want to go the Embassy too, she asked us where it was; we told her Breach Candy, she checked into her file and charged us Rs. 270.
Bombay is really an old city, almost all the construction I saw there seemed old. Of course, that doesn't mean there aren't any new buildings around, but most of what I saw had old ones. But the buildings there are just so different, each building has its own unique design, you can actually see some architecture at work, unlike Hyderabad where you only see blocks of buildings with nothing unique to them. Skyscrapers, residences, colleges, offices all on the main road. We went on the Bandra-Worli sea link, I guess it would have been more exciting to walk over it. You could even see fishermen boats. Traffic is saner there, though the jams are slower. The good thing about the roads is they are interleaved with pavements kinda blocks, so there are lesser chances of potholes.
I've always loved being near water. When you walk on the beach, just block out all sounds and listen to the rhythm of the waves. Watch the horizon and imagine the depths, the force within those gentle waves. You realize how insignificant you are and your troubles. Beaches in Bombay can be dirty but it doesn't hide the majesty of the sea.
When I see the old buildings, old as in almost a century old, I feel some kind of ache within. It's like spending your last moments with your loved one, trying to take in as much as you can, wanting to touch and caress and somehow take it all with you, where it can never be parted from you. I could stand there for almost all day, just watching the building, the details carved into it, the effort gone into it making it a beautiful place rather than just a place to be inhabited.
People seem helpful, though quite busy, they really don't seem to give a damn to what you are or what you do. They'll look at you, think 'Ok, here's another new species' and go on their way. For a mouse like me, I didn't feel self-conscious even once, and that definitely, means something.
It now seems as if I had gone to Bombay to revive all that which got buried beneath the mundane details of everyday life. To feel once again what it was to be the child I once was, and to get a whiff of what I would like my future to be. Like I said it was a dream where the past, present, and future mingled and then poofed their separate ways.